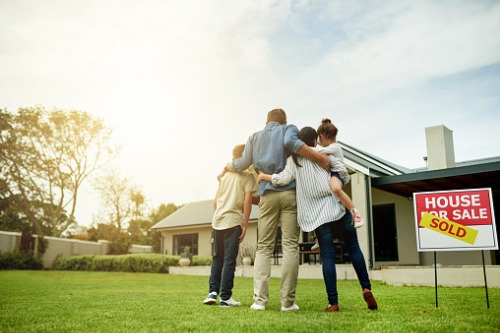 Newly released data by the Census Bureau shows that new home sales rebounded in December after November's sharp decline.
Sales of newly-built, single-family homes edged up 1.6% month over month and 12.2% year over year to an annualized pace of 842,000 units. In November, new home sales were down 12.6%.
"While we had expected an increase over the month, the gain was smaller than we anticipated. Combined with a downward revision to prior months, it left the fourth quarter total at 873,000 annualized units, somewhat below our forecast," said Fannie Mae Chief Economist Doug Duncan. "Still, the decelerating trend in sales over the final months of the year is consistent with what we view as being necessary to bring the pace of sales in line with the pace of new construction."
Inventory remained low at a 4.3 months' supply, with 302,000 new single-family homes for sale, down 18.9% than a year ago. The lack of inventory, coupled with rising lumber and other building material costs, has pushed the median sales price to $355,900, up from $329,500 in December 2019.
"We've stressed in recent quarters that the sales pace had eclipsed what was sustainable given the level of construction and that some combination of cooling sales and accelerating housing starts would be needed," Duncan said. "When combined with previously reported growth in housing starts, much of this rebalancing may now have occurred. While inventories of new homes for sale remain tight, the months of supply ratio rose for the second straight month to 4.3, up from the summer's low of 3.5."
Home sales rose in all four regions: 21.2% in the Northeast, 24.2% in the Midwest, 17.6% in the South, and 18.9% in the West.
"Sales growth continues in lower cost, lower density markets," said Chuck Fowke, chairman of the National Association of Home Builders (NAHB). "Indeed, the Midwest posted a 24% sales gain in 2020. Looking forward, builders are concerned that increased regulatory burdens in 2021 could hurt housing affordability."
"We currently forecast overall home sales to decelerate somewhat in coming months, reflecting the continued waning of last year's delayed spring buying season, but we expect new home sales will continue at a solid pace into 2021," Duncan said. "Low mortgage rates, tight supply of existing homes for sale, and continued heightened homebuyer interest in suburban and smaller metro locations will likely be supportive of new home sales going forward."
Source: mpamag.com